Press Release
Health Financing and Pharmaceutical Policy Challenges Affecting Access to Medicines in the Caribbean
21 July 2023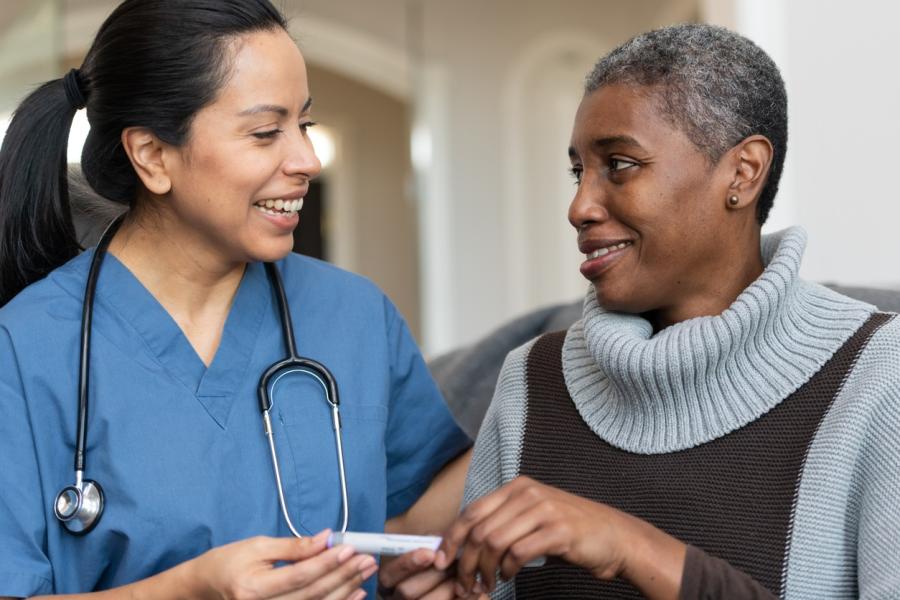 Bridgetown, Barbados, 21 July 2023 (PAHO/WHO) – Access to essential medicines is recognised as a fundamental human right by governments worldwide. However, in low- and middle-income countries, including the Caribbean, millions of people continue to face significant challenges in accessing affordable and quality medicines.
This was the focus of a webinar held on July 19 and hosted by the PAHO/WHO Caribbean Subregional Program Coordination Office, in collaboration with Headquarters in Washington DC, in which two reports were presented. Health Financing and Access to Medicines in the Caribbean, a PAHO/WHO report presented by lead field investigator Dr. Rebecca Hancock-Howard from the University of Toronto Institute of Health Policy, Management and Evaluation and Pharmaceutical Cost Containment in Small Markets: A Review of Policy Challenges and Analysis of Existing Policy Responses, a Boston University study presented by Erin McConnell, Dr. Warren A. Kaplan, and Dr. Veronika J. Wirtz from the Department of Global Health.
The webinar was moderated by PAHO/WHO Subregional Health Financing Advisor Dr. Guillermo A. Sandoval, who welcomed approximately 140 participants from over 30 countries, spanning not just the region but also beyond its borders.
Dr. Althea LaFoucade, Director of the University of West Indies Centre for Health Economics in her opening remarks pointed out that barriers to access to medicines in the Caribbean have been a consistent concern identified by the Caribbean population over the past decade. She praised the two studies presented in the webinar highlighting the wealth of information provided to guide strategic, impactful interventions.
Unit Chief, Primary Health Care and Integrated Services Delivery Unit at PAHO/WHO, Dr. Ernesto Bascolo, pointed out that the COVID-19 pandemic further compounded these challenges, significantly impacting economies and societies worldwide. "Our goal is to ensure that everyone in the Caribbean can access the medicines they need for healthy and productive lives while achieving sustainable and equitable health financing. Ultimately, we aspire to influence policy decisions and facilitate meaningful improvements in the availability and accessibility of essential healthcare resources in the region," he explained.
After the presentations, a distinguished panel of four Caribbean experts shared their perspectives on the study findings. Among them were Dr. E. Arthur Phillips, Senior Medical Officer of Health (NCDs), Ministry of Health and Wellness, Barbados; Francis Burnett, former Head of the Organisation of the Eastern Caribbean States Pool Procurement Service entity; Dr. Patrick Martin, Advisor from the Ministry of Health in St. Kitts & Nevis; and Dr. Stanley Lalta, a distinguished Health Economist from the University of West Indies.
The webinar also presented an opportunity to highlight the role of the PAHO Strategic Fund for Public Health Supplies, which has benefited over 120 million individuals and procured nearly USD $850 million worth of supplies for the Americas region since 2018. Christopher Lim, the Chief of the Fund, elaborated on its success, underscoring the active participation of 55 entities, comprising 35 countries and territories, along with 20 health agencies.
This webinar serves as a pivotal element of PAHO/WHO's subregional strategy in health financing, designed to enhance evidence, research, and knowledge sharing, thereby strengthening health financing policies and health systems. As a part of this comprehensive strategy, the Subregional Program actively fosters sub-regional dialogues and encourages open policy debates to facilitate the exchange of knowledge, identify opportunities, and address challenges in the realm of health financing.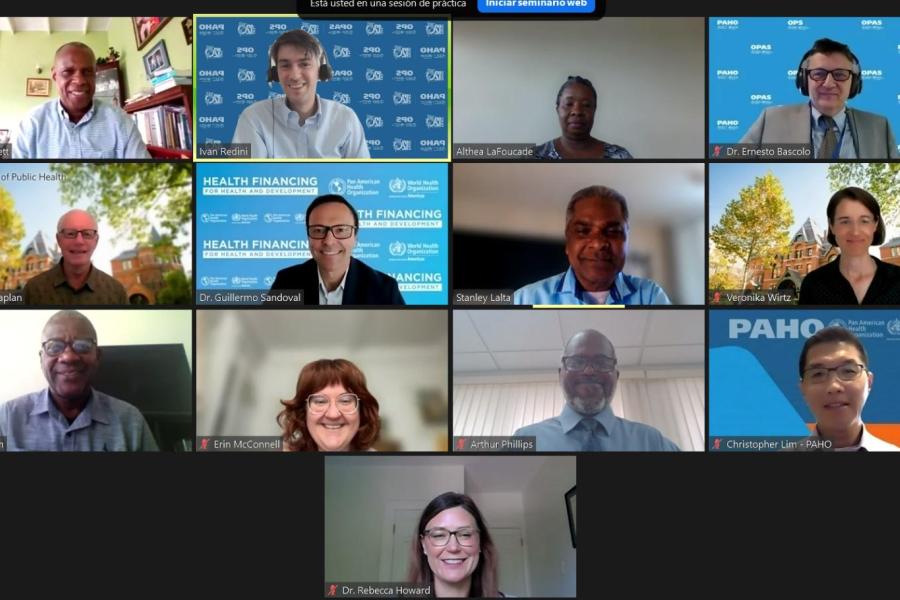 CONTACT: 
Lisa Bayley  - bayleylis@paho.org 
PAHO/WHO Office of the Subregional Program Coordination (Caribbean) 
 
The Pan American Health Organization (PAHO) works with the countries of the Americas to improve the health and quality of life of its population. Founded in 1902, it is the world's oldest international public health agency. It serves as the Regional Office of WHO for the Americas and is the specialized health agency of the Inter-American system.   
 The PAHO Subregional Program is responsible for providing subregional technical cooperation and to strengthen PAHO's engagement with the Caribbean Subregional integration mechanisms, the Caribbean Community (CARICOM) and its various bodies and organs; and to build synergistic partnerships with the subregional institutions such as the Caribbean Public Health Agency (CARPHA) and the University of the West Indies (UWI), among others. PAHO's subregional technical cooperation specifically focuses on public health issues which would benefit from economies of scale and for which agreement on proposed collective responses and actions would produce a far greater impact rather than individual country responses. The Subregional Program also plays a role in coordinating among the different PAHO country offices. 
UN entities involved in this initiative
PAHO
The Pan American Health Organization
WHO
World Health Organization