Story
Guyana highlights SDG achievements in second Voluntary National Review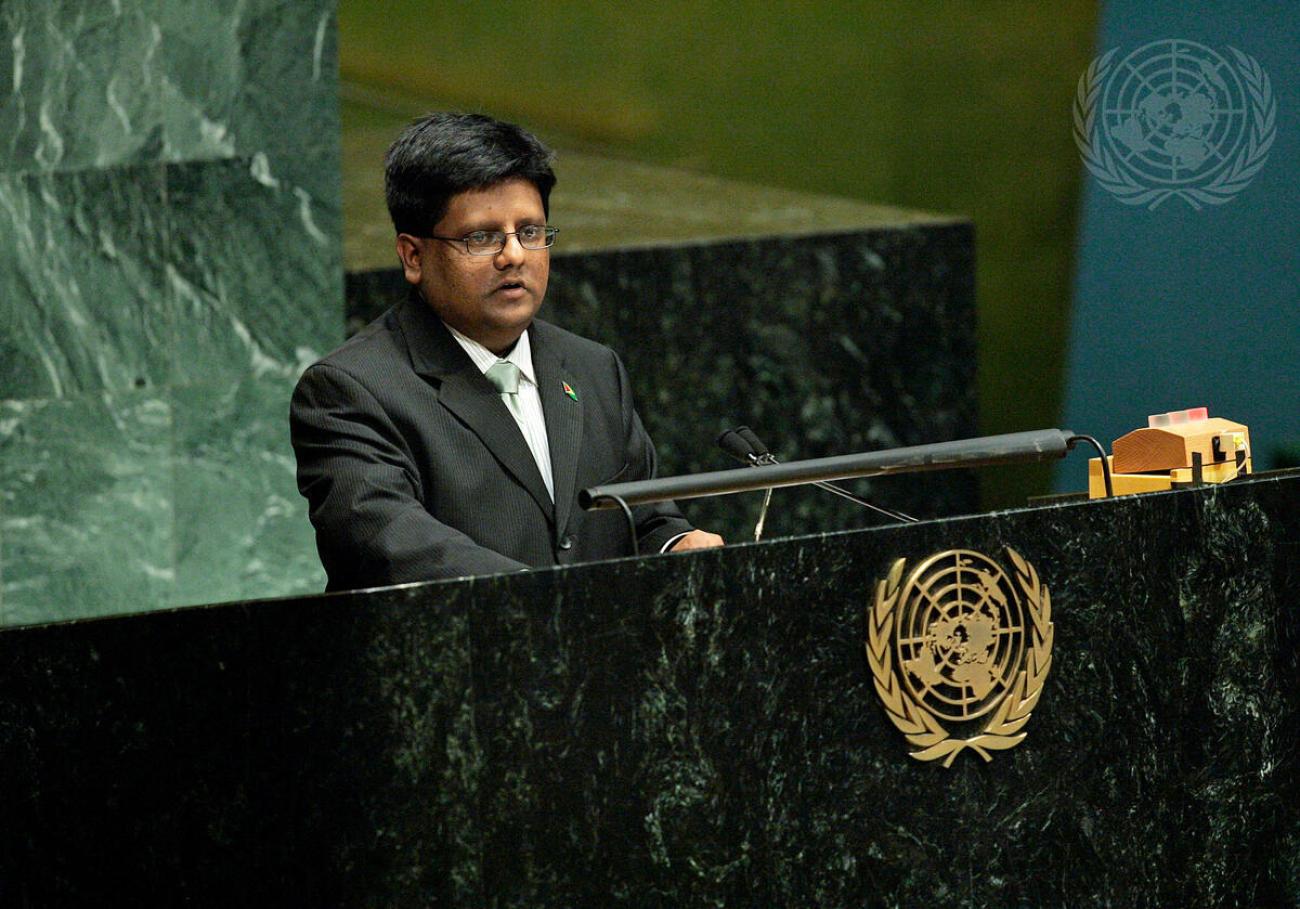 "Guyana has been making significant progress on attaining the SDGs with Government working aggressively on all of the core development areas targeted."
Guyana's second Voluntary National Review (VNR) was presented by Hon. Dr. Ashni Singh, Minister within the Office of the President with responsibility for Finance, during the High-Level Political Forum on Sustainable Development (HLPF) 2023, hosted under the auspices of the Economic and Social Council (ECOSOC).
Under the theme "One Guyana: Achieving Low-Carbon, Sustainable Development for All", Dr. Singh stated that the country's national development strategy - the Low Carbon Development Strategy 2030 is aligned with Agenda 2030.
According to the Ministry of Finance, Minister Singh highlighted that Guyana has been making significant progress on attaining the Sustainable Development Goals (SDGs) with Government working aggressively on all of the core development areas targeted. Dr. Singh further said that achieving resilience and full implementation of Agenda 2030, requires immediate mobilisation and deployment of adequate levels of affordable financing, especially for the most vulnerable countries. This can only be realised with redoubled national and global commitment.
The 2023 VNR focused on achievements made to advance SDGs 6, 7, 9, 11, and 17.
Below are some of the key highlights and achievements presented in the VNR:
Goal 6: Clean Water and Sanitation
Guyana made significant progress in improving water supply, reliability, and quality through targeted actions, expanding water and sanitation infrastructure, reducing non-revenue water, and forging stronger partnerships at national and international levels. Sustainable water source management will be achieved through aquifer studies and integrated water resource management.
Goal 7: Affordable and Clean Energy
Guyana intends to transition to clean and renewable energy sources, aiming for over 80 percent reliance on solar, wind, biomass, and hydropower by 2030. Natural gas will serve as a bridge from heavy fuel oil to increase energy consumption capacity while keeping greenhouse gas emissions stable, decoupling economic growth from fossil fuel usage.
Goal 9: Industry, Innovation, and Infrastructure
Significant investments in infrastructure, particularly in transportation, are underway, leading to cost and time savings for citizens and businesses. Harnessing natural gas in the manufacturing sector will reduce energy-related operational costs, enhancing competitiveness, valuing technology transfers and partnerships to boost national research capability and mobile connectivity.
Goal 11: Sustainable Cities and Communities
Guyana emphasised its commitment to creating sustainable urban practices, affordable housing, and formalisation of informal settlements are priorities. Subsidy programs aim to promote affordable housing and home-financing for low-and middle-income earners, including females. Addressing solid waste pressures requires landfill capacity upgrades due to expanding population centres and businesses.
Goal 17: Partnerships for the Goals
Recognising the importance of international cooperation, Guyana depends on fulfilling the commitment of 0.7 percent GNI for global partnerships. Post-COVID-19 limitations on raising public resources and climate change challenges necessitate consistent ODA commitments. Adopting a multidimensional vulnerability index is vital for comprehensive development approaches, especially with Guyana's graduation to upper-middle-income status affecting concessional lending.
UN entities involved in this initiative